This entry lacks an overview map , supplement related content to make the entry more complete, but also can be quickly upgraded, hurry up and edit it!
P2P technology is a major innovation in Internet technology. P2P enables the sharing and dissemination of big data files on the Internet. The transmission speed of the network increases with the increase of users. This is a revolutionary subversion to the traditional B/S. . With the help of Groove, Microsoft has realized the rapid and flexible integration of files in the Microsoft Office suite in a networked office, mobile office , and team collaboration environment.
In a project team, everyone as long as they have installed Groove on their computers, they can find each other, create a project space, and invite related people to enter. Then share files, post discussions, post questions and reply in a real-time synchronized space. When a project member updates a file or posts a discussion, it will be immediately transmitted to the Groove of other project members as incremental updates , and other members will receive it. At the prompt, it reminds that the content of the project has been updated, and the project members can also communicate in real time, including open channels, one-to-one, one-to-many communications.
name of software
Microsoft Office Groove
Developer
Microsoft
software platform
WinXP, Win7, Win8, Win10, WinAll
Software language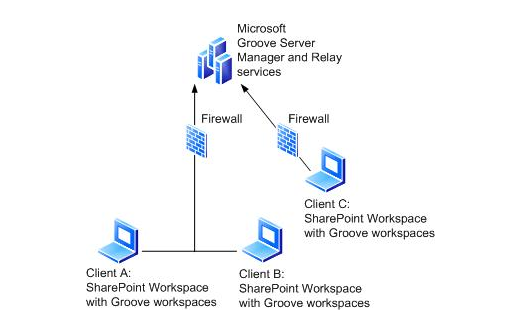 multi-lingual
Software category
Office Software
basic skills
1. File sharing , any file dragged into the column by any project member will be automatically synchronized and updated between each member, and the changes will be notified in real time, without the need to repeatedly email to multiple members.
2. Discussion board, just like ordinary BBS, post and reply, each member will be automatically notified of new posts.
3. Calendar table , where you can plan project milestones, project schedule plans, mark completed progress, and so on.
4. Notes, members can write work notes and experience, similar to the function of Word, real-time sharing.
5. Issue tracking, problems encountered by the project can be posted here, and different members are responsible for tracking, and replying to the progress report and the resolution of each issue.
In the Groove environment, project files have a copy in each member of Groove. Project members can freely modify the document. After the modification, the document can be automatically synchronized to all project member machines. In an offline environment, project members can also edit documents freely, and documents can be synchronized automatically once they are connected. In the document, you can see the modification records of different members through different colors. Groove has a feature that can traverse firewalls through port 80 , which makes Groove usable in large enterprises with high information security. Groove also has an " incremental update " feature. The modified document is synchronized between different members and only the modified content of one document is synchronized, not the entire document. This is particularly effective for optimizing network transmission.
Microsoft Office Groove is divided into Server version and Client version. In a project team or a multinational project team, all the above mobile collaborative office functions can be realized without installing the Server version. Microsoft Office Groove Server provides more integration, monitoring, and management functions. It is a pity that Groove does not provide permission restriction functions, and cannot restrict access restrictions of a certain team member. This may require integration with SharePoint, which should be a product positioning strategy of Microsoft .