Definition
HD mixed matrix supports multiple format signal exchange, realizing displaying signal content in various screens and projectors. The device uses a card-type structure, and the installation is flexible. It is currently supported by signal inputs such as HDMI, DVI, HD-SDI, VGA, CVBS, YPBPR, etc., HDMI, and DVI signal outputs. It also has Ethernet and RS232 communication interface that can be used in conjunction with personal computers, remote control systems, or various remote control devices. The HD mixed matrix has a unique solution for a major engineering that requires digital audio and video switching.
Development Status
In developed countries, with the advancement of science and technology and the improvement of people's living standards, HD walks in front of the front end, has been basically popular, so business HD video is wide, the HD video The switching demand is relatively early, and the international leading enterprises such as Extron, Karema, etc. have developed a pure high-definition matrix of various interfaces.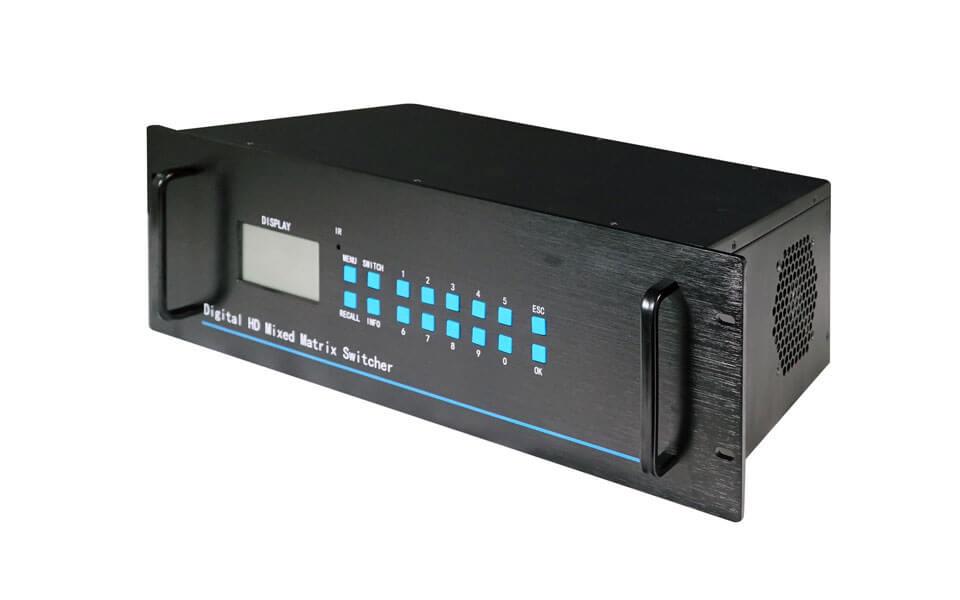 application video first Chinese government departments in order to better carry out the work, in the early 1990s began to introduce commercial video technology, through the pursuit visible from the beginning, to see things clearly now. According to Authoritative research institutions show that China HD video demand has exceeded Japan, which will become the strongest market in Asia. Of course, due to related technologies, the full HD video market is mainly based on business HD, and the power of technology is endless. I believe that when the cost is controlled, China's HD video communications will be fully blooming.
Functional Features
1. Support multi-channel video signal input;
2. Support multiple video signal output;
3. A variety of interface video signals;
4. Full HD video signal output;
support multi-channel hybrid signal input output switching;
support HDMI, DVI , SD / HD / 3G-SDI, VGA, AV, YPBPR, 4-core light pass, 2-core optical transmission, 1-core optical signal input;
support HDDMI, DVI, SD / HD / 3G- SDI, VGA, AV, YPBPR, 4-core light transmission, 2-core light transmission, 1-core optical signal output;
support the highest resolution 1920 × 1200 @ 60Hz, 2048 × 1080p @ 24Hz.