Introduction
DeltaV system provides powerful and easy-to-use design and operation process control software. DeltaV uses standard Windows features to provide familiar user interfaces. The latest version is English version of DeltaV14, Chinese version R6, in various DCS market share, and its system is very popular internationally, with a wide range of cooperation with well-known petrochemical companies around the world.
DeltaV digital automation system connects personnel, process and production in a simple, intuitive interaction, and makes full use of current predictiticization techniques to help improve your factory operations.
Advantages
I / O On-demand configuration - Configuring
Innovative I / O technology implements the flexibility of field IO configuration, the simplicity of system integration, and improves device availability. Regardless of the required I / O type, for example, traditional hardcutive I / O, FF Foundation Fieldbus, Profibus DP, DeviceNet, AS-I bus, even redundant wireless, you can easily add or change, instant Use; and engineering, design and live work is much less than ever. Regardless of the signal type of the Characterization Module (a field wiring to be terminated anywhere), you can set the field cable in any required place.
Outstanding Scalability - Suitable for native function
meaning All hardware, engineering tools, operations and maintenance procedures are consistent, making the operation more convenient, less training, and lower spare parts cost. From 25 I / O to more than 100,000 I / O, the DeltaV architecture can expand with your business growth to meet your business needs. Wireless HART and its self-organized mesh wireless networks can help you expand your menu in the factory according to the device in the factory. DeltaV Zone technology can divide the system to ensure the flexibility of operation and expansion and enhance system performance. With universal hardware components, engineering tools, operations, and maintenance software, you can save a lot of cost in training and spare parts inventory, and the operation is more easier.
Embedded intelligent control - Advanced technology for easy use and maintenance
including blur Control, neuron network and multivariable prediction control, these technologies can support your continuous operation to help you optimize control loops without senior experts and expensive maintenance costs. Using intelligent field equipment, the DeltaV system further enhances intelligent control performance, and the specific implementation is: directly embedding learning algorithm into the DeltaV system to identify hidden variability and bad performance loops, control based on model-based reference performance Monitor, find and diagnose problems (such as fault valves). The end result is: Reduce disturbance and avoid accidental parking, improve availability and production by reducing variability. Including enhanced PID control, variability automatic detection, self-tuning, fuzzy control, model estimation control, and neuron networks, can be implemented by dragging and dropping, and can be run in hidden mode, no need External expert consultation and maintenance costs.
native integration mode - Transfer PlantWeb's powerful function to each device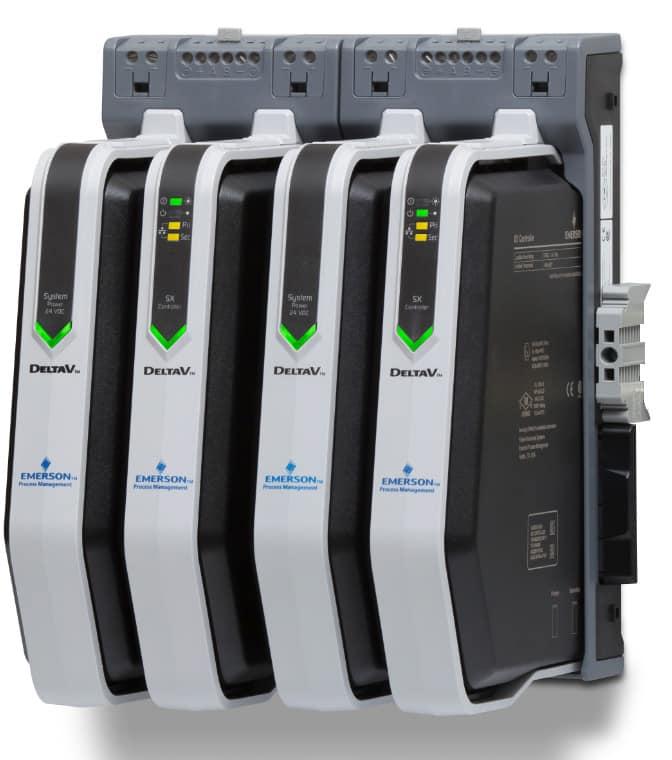 Change management, safety, mechanical health monitoring, historical record, batch control, resource management application, and even based on third-party standards, all of this can be seamlessly integrated. The intuitive and rapid drag and drop engineering methods for control, bulk and security strategies, as well as process graphics, history, events, and change management, share a single global database without data mapping. DeltaV Configuration Audit Trail provides powerful change management and tracks the revision of any items in the configured database. Conveniently, the security mechanism based on user login prevents unauthorized system changes, the AMS suite and the control system seamlessly integrate, can continuously monitor key asset equipment. The humanized design (HCD) of the DELTAV operation interface provides the efficacy of the WYSIWY, achieving faster judgment and decision. Open-based, interoperable standard DELTAV system seamlessly integrated third-party communication technology, including OPC, Modbus TCP, and Ethernet IP. To further improve the integration of process automation, SyncadeTM Suites provides comprehensive operation management to increase efficiency and increase production.
Specialize in - Designed for your process control application
With the full cost advantages and open benefits of mature commercial technology (COTS), and add special features to meet your most demanding process control application requirements. The DeltaV system design has the function of "revolutionary leap" and the advantage of the results of the effect, which is the first to adopt mature business technology (COTS). The DeltaV system is based on the cost-effective advantage of the COTS open system, and the features of specific purposes are designed, such as plug-and-play functions, support and integration of full life cycle. Ethernet network switches and security devices have a comprehensive configuration for early warning functions to provide diagnostic application requirements with other maintenance warning.
Main content
Advanced Control Advanced Control:
Insight monitoring;

< / li>
neural network;
predict prediction control;
PREDICTPRO expert prediction control;
SimulatePro simulation expert;
tune with insight application identification setting;
engineering application;
setting and installation;
operator application;
Batch application;
DeltaV self-study guidance;
DeltaV system not only has BPCS but also has integrated SIS.