AMD 970 is a motherboard that supports RAID functions and is suitable for desktop computers.
Chinese name
AMD 970
appropriate types
Desktop
CPU type
AMD Phenom II, Athlon II
Number of CPUs
1 piece 
content
1 product description
2 The main parameters
3 North Bridge function
4 South Bridge function
product description
The north bridge chip AMD 970 and the south bridge chip AMD SB950 perfectly support the new generation of 32nm AMD AM3+ interface CPU ( bulldozer ). And backward compatible with 45nm AMD AM3 interface CPU (that is, all CPUs that 880G can support). The memory standard can reach DDR3 2000. Without integrated graphics , you need to purchase a discrete graphics card . There are two graphics card slots PCI Express x16, supporting crossfire and SLI. SATA3 hard disk 6Gb/s transmission, support disk array. Support USB3.0. Board type structure: ATX (namely large board.)
AMD 880G supports CPU with 45nm AM3 interface. Some motherboard manufacturers have made 880G with AM3+ interface, but they certainly cannot support bulldozers perfectly. Memory standard DDR3 1333, overclocking up to 1600. The motherboard integrates ATI Radeon HD 4250 graphics card. Generally, there is only one PCI Express x16 graphics card slot . SATA2 hard disk 3Gb/s transmission (models below South Bridge SB850), only supports USB2.0 (models below South Bridge SB850), board structure: M-ATX (namely small board).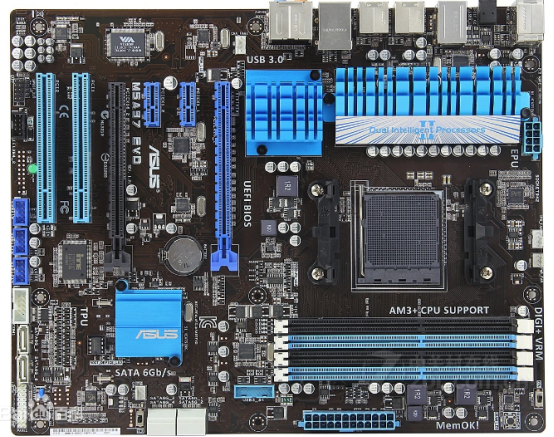 The 970 is geared towards mid- to high-end computer platforms with discrete graphics cards . It supports AMD's latest technology CPUs. Generally, materials and power supply are better, large boards and circuit layouts are more reasonable, and heat dissipation performance is better. Has excellent overclocking performance. It can handle AMD six-core and eight-core CPUs calmly.
880G is oriented towards low-end integrated display computer platforms, and only supports AMD 45nm CPUs. Generally, materials and power supply are relatively economical, and most of the small board designs. It should be no problem to support quad-core . I am afraid that it will not be able to deal with AMD six-core CPU.
The main parameters
Applicable type: desktop
North Bridge function
CPU type: AMD Phenom II, Athlon II
Number of CPUs: 1
Number of memory slots: depending on the CPU
Maximum memory capacity: depending on the CPU
Memory transmission frequency: depends on the CPU
Memory verification: depending on the CPU
Display chip: does not support integrated display chip
Graphics slot: Support PCI Express 2.0 x16
South Bridge function
USB interface : support USB interface
SATA interface : support SATA interface
RAID function: support
Audio chip: support integrated audio chip
Network chip: support integrated 10/100/1000Mbps network chip